---
Welcome to St. Mary's Cathedral
St. Mary's is the largest parish in the Diocese of Aberdeen situated in the heart of Aberdeen city centre. We are a multi-cultural parish seeking to grow in love of God and our neighbour.
It is our dream to make our parish a home for all, where we can come to know and serve one another through different groups and ministries.
---
Mass Times*
Mondays
12.30pm
---
Tuesdays
7.00pm
---
Wednesdays
12.30pm
---
Thursdays
7.00pm
---
Fridays
12.30pm
---
Saturdays
10.00am
7.00pm
5.00pm Mass in Spanish on the last Saturday of the month.

(Misa en Español

)
Sundays
8.00a.m
11.15am
6.00pm
Polish Mass
9.30am
3.00pm
The Sacrament of Reconciliation (Confession) is available on Tuesday and Saturday evenings from 6.00pm and on Saturday morning from 10.30am.
 *Please refer to the Sunday Bulletin for any changes to the regular Mass schedule
---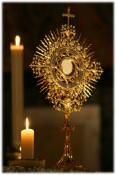 Eucharistic Adoration
Eucharistic Adoration takes place on Tuesdays and Thursdays from 7.30am to 7.00pm and for 1 hour before Mass every day except Sundays.
To discover more about the great gift of Eucharistic Adoration
---